Florida's orange crop this year will be nearly a third smaller than last year and one of the smallest in decades after Hurricane Ian devastated citrus groves the previous month. According to the USDA, all-orange production for the 2022/23 season is estimated at 3.19 million tons, down 8% from the 2021/22 final numbers in the USDA annual production report. That's the equivalent of 10,200 fewer truckloads this season. Florida's orange output is expected to drop following Hurricane Ian to an estimated 1.26 million tons, down 32% from last season. Midseason and navel varieties are forecast at 495,000 tons, down 40% y/y. Florida's Valencia orange forecast, at 765,000 tons, is down 25% y/y.
According to Florida Agriculture Commissioner Nikki Fried, "It is heartbreaking to see such an iconic Florida industry hurting right now. This year will be tough; no one is disputing that, but I believe in the tenacity and passion of our citrus industry professionals to come back stronger than ever." Florida's declining citrus crop is not just the result of damage from Hurricane Ian. In January, the USDA reported the crop was expected to be the smallest in over 75 years and said that Florida was on pace to produce the smallest crop of oranges in more than 75 years. The net result for brokers and carriers is that California will surpass Florida in orange production for the first time in recent years. This indicates a shift in citrus volumes to the West Coast and port markets, including Philadelphia, where citrus imports from countries like South Africa and Australia will make up the domestic shortfall.
Market Watch
All rates cited below exclude fuel surcharges unless otherwise noted.
Following Hurricane Ian, outbound spot rates from Atlanta to Lakeland at $3.23/mile are $1.13/mile lower than the previous year, with ample market capacity to move surging volumes into Florida's largest freight market. The volume of loads moving on this lane dropped 34% during the week when Hurricane Ian made landfall on Sept 27, and then as the market recovered, volumes jumped on this lane, increasing by 62% w/w the following week. In the Pacific Northwest, reefer capacity continues to tighten as produce volumes also increase. Spot rates at $1.99/mile are up $0.83/mile since June and are at almost the same level as the previous year for loads from Yakima Valley to Los Angeles. 
In California, the largest year-round producer of fruit and vegetables, brokers and growers found capacity adequate last week, with produce-specific loads from nine regional crop origination markets to major cities averaging $3.89/mile last week. Overall, state volumes are running 30% lower than the previous year, or the equivalent of almost 3,000 fewer truckloads per week. National produce volumes are still down around 13% y/y or the equivalent of 3,700 fewer truckloads per week, with California accounting for about 80% of the reduced truckload volume.
Load to Truck Ratio (LTR)
Fall harvest is underway, pushing up reefer load posts in pumpkin markets. In Iowa and Illinois markets, load posts were up 16% w/w, but that wasn't sufficient to make a dent in declining national volumes. Reefer load posts dropped by 10% last week, while capacity loosened following the previous week's 5% increase in equipment posts. As a result, the reefer load-to-truck (LTR) decreased by 14% from 6.61 to 5.66 last week.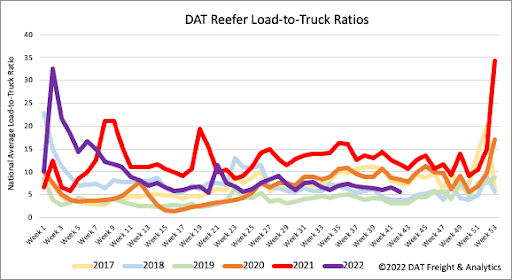 Spot Rates
Surging diesel prices last week resulted in reefer spot rates dropping by $0.08/mile last week to a national average of $2.11/mile. Compared to the same time the previous year, reefer rates were $0.74/mile lower and identical to this time in 2018. However, last week's average spot rate is still $0.16/mile higher than the pre-pandemic average for this time of the year.
The post Reefer Report: Hurricane Ian puts the squeeze on citrus volumes. appeared first on DAT Freight & Analytics – Blog.